I love Sunday nights because Sunday nights are Downton Abbey nights. The only problem is that the Mister isn't here to enjoy one of our favorite shows with me. Good thing he'll be home in less than two days to catch up on the episodes he missed - and I'll get to watch them all over again with him!
I'm also in a pretty fine mood this evening because it's the one year anniversary of the day the Mister proposed. I was sitting on the couch I'm sitting on right now (but in the apartment Chris was renting at the time) in an XL t-shirt, leggings, and a baseball hat when he walked over and popped the question. It was perfectly low key and just between the two of us, and it definitely brings a smile to my face to remember this day a year ago. What made it even better was that, while Chris and I were out eating a celebratory nice dinner that night, one of my bestest friends called to tell me her boyfriend had just proposed! It wasn't planned, just a wonderful coincidence. January 26th will definitely be one of my favorite dates forever.
We awkwardly asked the hostess at the restaurant to take our picture when we went out to dinner so we would have one to document the proposal. It's hard to believe it was only a year ago.
I thought today would be a great day to share another favorite things post. The items this time are all from our living room. It's my favorite room of the house, and it's definitely the place I've focused my decorative energy, so everything in it is my favorite. That made it pretty hard to choose five most favorites, but I did my best!
My favorite piece of furniture in the room is no surprise... our bar of course! But it's not just because it's where the alcoholic beverages live. The bar is another consignment piece from
Bella's House
of Burlington, NC. With a (convincing fake) marble top, we don't have to be as careful about spills as we would with a wooden drink preparation surface. There is a TON of storage inside for all the different kinds of craft beer glasses we received as wedding gifts. And it really just completes the room. It was such a beautiful, lucky find that we were able to purchase partially with a gift certificate we were given.
Our wedding cake topper resides on the top shelf of our book shelf in the living room, and I love looking at it every day. Birds have a special significance to me (they're all over our house), but these two are my favorites. I love the metaphors birds and nest provide - Chris and I are building our own nest, and this little knick-knack symbolizes that to me.
I have mixed feelings about the bunting that hangs from our mantle. Yes, it hung at our wedding reception and it is a lovely reminder of our wedding day. However, I made all 200+ feet of the bunting we used, and by the time wedding came along, I would have been fine if I had never seen any of it ever again. The colors were perfect though. The bunting truly tied the look of the reception together. So I have it hanging here as a reminder of the day we said our vows and of the fact that hard work does pay off.
Chris and I both love maritime themed decorations that don't get too "beach housey" for a land-locked home. When we saw this painting in Pier 1 we knew immediately it was just the thing we needed to fill our large wall behind the couch. Pier 1 has several of these types of paintings - I think they're just prints and they add a little texture, which makes it seem like each one is hand painted. What is extra cool about it is that it has a lot of depth. The way it looks like it goes on and on in the background gives a nice illusion of a bigger room to our little living space.
During 2012 and the beginning of 2013, Chris and I got really into trying different craft beers and collecting the bottles. When Chris moved out of his apartment, we didn't want to carry three boxes of beer bottles with us to our new home. Chris had the great idea of using them as rehearsal dinner centerpieces. His mom took the idea and ran with it, and they looked awesome! I kept a few of the bottles for us that were tied to good memories or had really neat labels and they are now on display in the living room.
So there you have it - by far the living room is the room I prefer most in the house, mostly because I've filled it with lots of things that are related to some of our favorite memories. Although I love this room just the way it is, there are a couple items I want that would put it over the top on the "favorite room scale."
1) I'm obsessed with this
faux deer head
froom NearandDeer on Etsy. We have cathedral-ish ceiling, and it would look so, so perfect in the empty area where the walls comes to a point over the bar. I will have it someday.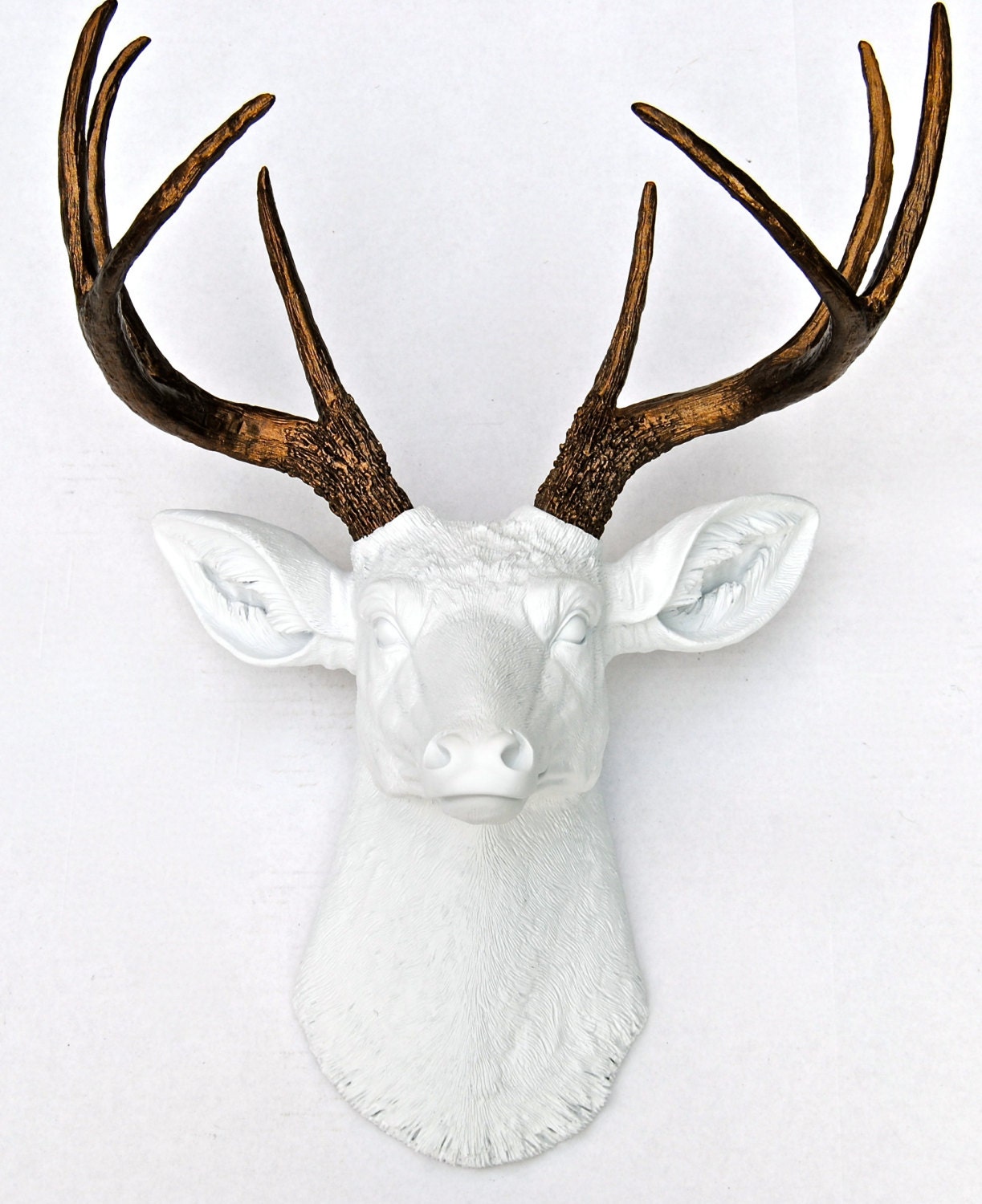 2) A little stainless steel freezer beside the bar for Chris to chill his beer glasses would be ideal. I wanted to get him one for Christmas, but they were far more expensive than I expected. Maybe a post-deployment gift?
Have a great week!