"Happiness is the consequence of personal effort. You fight for it, strive for it, insist upon it, and sometimes even travel around the world looking for it. You have to participate relentlessly in the manifestations of your own blessings."
This is one of my favorite quotes from one of my favorite books, Eat, Pray, Love by Elizabeth Gilbert. I always try to keep a reminder to participate in my happiness in the back of my head, but these past few days I've had to keep it more in the "front" of my head. The Mister has been away from his "home base" and unable to talk at all for a week now, which makes me worry about him more and just feel unsettled since I can't communicate with him at all. Add to that a few long work days, constant rain, a severe thunder storm (and not the relaxing kind) going on outside right now, and two very hyper dogs who have been in the crate all day (and can't go run outside because it's raining) = instant pity party.
But when I'm tempted to feel really sorry for myself because all I want to do is bury my head in my husband's shoulder and tell him how I had a terrible, horrible, no good day, I remind myself that while I am sitting on the couch and have the day off on Monday, my Mister would probably love to come home and relax in the living room and tell me about his long work days. Moreover, there are people in the world who don't have a roof over their heads and don't know if they'll have a meal anytime soon. Then I feel like a brat for feeling bad for myself because my life is pretty darn good.
At that point, it would be easy to circle back into my pity party by beating myself up for being such a whiner. Instead, I think it's easier to look for what makes me happy. And there are tons of things that are making me happy right now.
- Decaf coffee! I used to say, "there's a time and a place for decaf coffee, and that's never and in the trash," but my opinion on decaf has changed drastically recently. Pretty much every night, I drink a cup of decaf with my favorite creamer of the moment. It satisfies my sweet tooth without the fat and calorie content of dessert and makes me feel all warm and cozy inside.
- I'm loving my off-brand Toms - unfortunately, no child got free shoes as a result of my purchase, but I did get these for $12 and their pattern makes me smile. Too bad I got them a size too big, should have tried them on in the store, but they are perfect for hanging out around the house.
- In a pursuit to cut some of the ridiculous amounts of caffeine I consume out of my life, I have been trying to replace a few diet sodas a day with some more nourishing options. I've gotten to the point where I prefer the taste of G2 and Gatorade over diet coke. Sure, it's still not the best choice, but I've accepted that I'll never be someone who loves water.
- Cross stitching has become a form of therapy for me. The repetition of the movements is very soothing, and I love that it's a creative outlet as well. Currently, I'm working on an Emily Bronte quote I adore. Of course, there are times I get frustrated when threading the needle is difficult or I make a mistake and have to pull out my stitches, but the positive aspects of my new hobby far outweigh the irritating ones.
- With reduced shipping costs and the "if it fits it ships" motto, USPS Priority Mail military shipping boxes are awesome. I can pack whatever goodies Chris needs (or I want to send him) and my packages will always ship for a flat, cheap rate. Even better, the mailman delivered a free 10-pack of the boxes to me. All I had to do was order them online! I could even schedule pickups so I wouldn't have to take my packages to the post office, but I'm not that lazy.
- Since Chris left, I have developed a greeting card obsession. I can't go into a store that carries them now without looking through the "Miss You" and "Thinking of You" sections looking for cards that may make him laugh or look like "us." Sorry I had to keep these kind of hidden - I don't want Chris to see them until I mail them!
- Chris is unable to download and stream music where he is, so I've been going old school and burning him CDs of all the new music I think he might like. I've discovered they can be mailed easily inside the greeting cards I mentioned above. Listening to music has been even more fun than usual, as I'm always trying to keep my ears open for something Chris might enjoy on the next CD I send him. (Sorry, I couldn't resist the cuteness of having the sleeping Lulu beside me serve as a background for this picture.)
- Seriously, there's not much that can make me happier than this 10-day forecast is making me right now. Do you see all those 70 degree days?? Not to mention Wednesday! Oh, I can't wait to soak up some Vitamin D. I can wait to put on last year's bathing suit though.
- WE is really making my night with this Will & Grace marathon that's been on since I got home from work. While Chris is away, I'm soaking up all the W & G I can, as he is not a fan (in his defense, I don't think many guys are). In my humble opinion, the comedic timing and fantastic one-liners of this show cannot be beat. It's just classic, and I love it.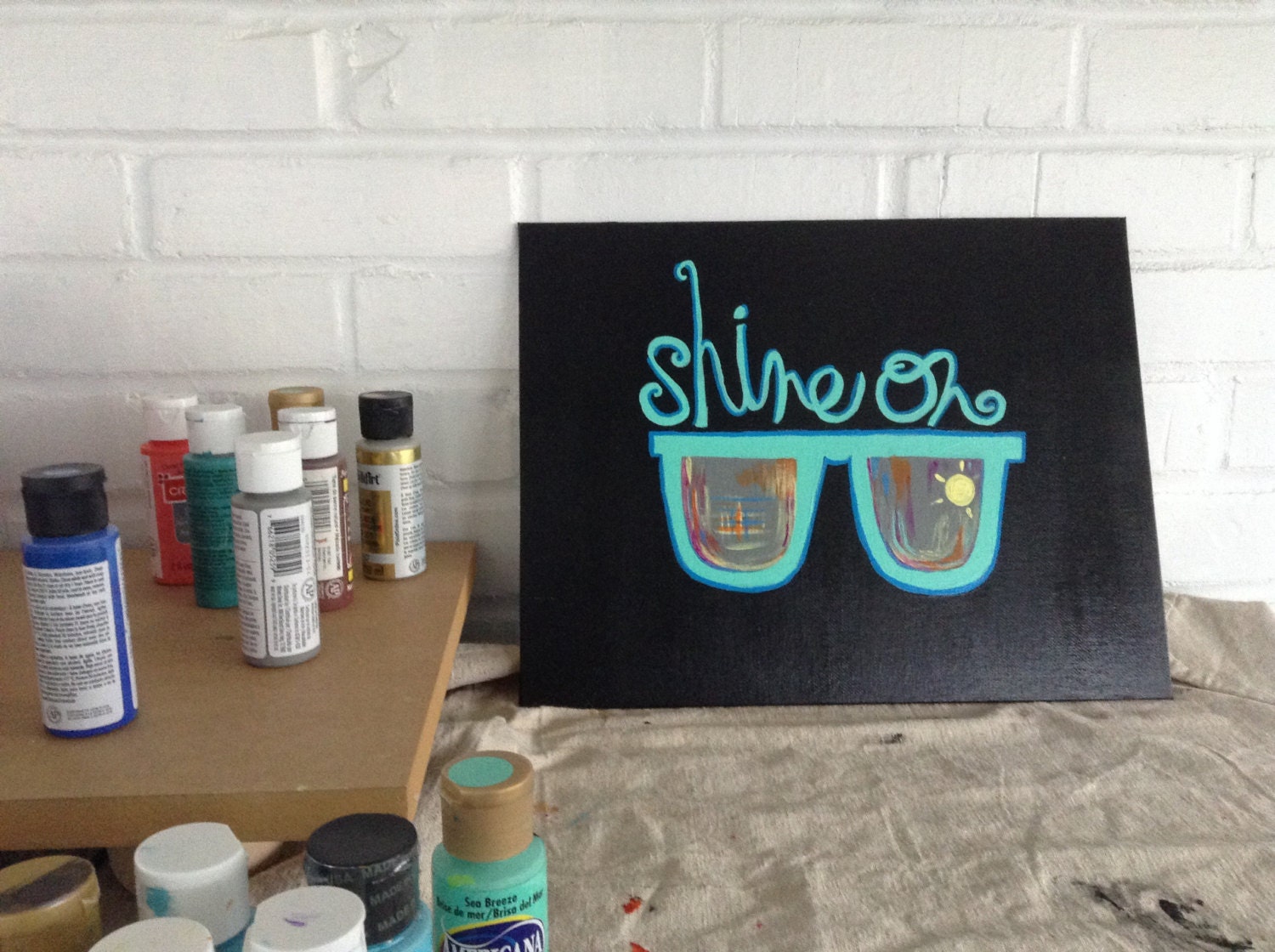 - My beautiful, talented cousin Molly opened her
Etsy shop
today! And I want to own everything in it. Unfortunately, I don't think I have enough walls in my house. I'm so proud of her and crazy about her artwork!
- Although I'm sure you're tired of hearing it at this point (I'm right on the verge of "crazy dog lady" here), my dogs never cease to make me happy. Even on our worst days, when they are hyper and it's raining and Hank's obnoxiously loud barks are echoing off the walls, I'm thankful for them. They keep me company and they keep me sane.
I am also forever grateful for the support system of family and friends Chris and I have around us. We're two lucky people for a lot of different reasons.
And, as it always does, participating relentlessly in the manifestations of my own blessings has significantly improved my mood this evening. I know the "count your blessings" phrase is overused at times, but it holds value.
Bonus video:
Hank needed to count his blessings yesterday. For some reason I could not understand, he was super sad and cried for about ten minutes straight. Here is a little snippet of the pitifulness:
I think someone misses his dad.