A couple things to mention before I begin this post:
1) In regard to my previous post, my husband does know how to spell the word "mechanical." Somehow, I did not even realize he had misspelled the word when I posted the screenshot of our text conversation. But, of course, it was the first thing he noticed when he read my last post. Sorry, sweetie!
2) I realized this week that there was a setting I needed to change to allow anyone to be able to comment on my Hart & McKee posts. So if you had tried to leave a comment but could not because you didn't have a Google account, that should be resolved now.
Now that we've gotten that out of the way... The Mister is HOME! He arrived early, early in the morning on Friday. Of course, I had to work every day this weekend. But two good friends came up from Georgia and South Carolina to see the Mister before he deploys in late February, and I think the three of them had a great time. I wish I could have had more time to spend with them, but we did all four get to hang out for a little bit on Saturday night. It's always a wonderful treat to spend quality time, however short, with old friends.
The Mister knew I was bummed about not being home this weekend since we had company and he had just gotten back after three longs weeks away, so he surprised me with this clock he knew I'd been wanting for the kitchen from Cracker Barrel:
How thoughtful is he? I'm the luckiest.
Thankfully, both of us had the day off to hang out yesterday. We were able to go to the gym together, have dinner out, and watch the episode of Downton Abbey we missed on Sunday night.
The Mister being home, friends visiting, and my new mint green clock are definitely some of my favorite things right now. Here are a few more favorites from around our home:
Since Chris is an artillery officer, cannons seem to be a common theme in our decorating. This particular cannon that hangs in our hallway may be my favorite because Chris and I found it on a random thrift store adventure while we were driving from Raleigh to Fayetteville one day. (Pardon the reflection of the map that hangs across the hall in the glass - there was no good angle to take the photo where there wasn't a glare or a reflection.)
I adore this print that hangs in our guest bathroom. Not because it is anything especially beautiful or expensive (I think it was $19.99 at Marshall's) but because it has lived with me in my sorority house at NC State, two different houses after graduation, and now in this house I share with my husband. I don't think I'll ever be able to do away with it as it has so much sentimental value.
Purchased during our honeymoon, this handmade patchouli scented soap in our guest bathroom makes me so very happy. We bought it at
Down Creek Gallery
, one of the coolest spots on Ocracoke Island for buying art work, candles, and classy souvenirs to remember a trip on the Outer Banks or to bring a piece of your trip back to those you love at home. Not only does this pretty little bar of soap remind me of our honeymoon, but I also love the scent of patchouli. It is unbelievably comforting. When we run out I guess we'll just HAVE to make a trip back to Down Creek to get more. It's always nice to have an excuse to go back to the beach.
A conversation with a friend who is looking into purchasing a new washer and dryer got me thinking about how much I really love my Maytag washer and dryer. Chris still jokes about how excited I was when the Lowes truck pulled up with them on move-in day. They are so sleek and easy to use, with the ability to "hand wash" and gently dry all of the blouses and dresses I really should take to the dry cleaner instead. They can also powerfully clean Chris's uniforms after he has been in the field for a week and handle the super thick quilt-y comforters we use on our bed and the guest room bed. I know it is strange for a girl to have such a love affair with her appliances, but I do. When they are done with a cycle, they even sing me a nice little tune instead of making an alarming, ridiculously loud "beep." I may be a little too into this homemaker lifestyle. Judge me.
While we're on the topic of washing clothes, I should also tell you about how much I love
Method laundry products
. They are awesome. Big name detergent and softener scents can be so overpowering, but these Method products make your clothes smell clean in a way that smells like they were dried outside on a clothes line in spring, not like they were soaked in chemicals for an hour. In addition to being naturally derived, Method detergents and softeners are super concentrated, with a small, easy-to-use bottle. And refill bags are available, so you can hold onto your first bottle with a pump and save money by buying refills. The softener makes my sheets and towels just as soft as Downy ever did, but I get the piece of mind of knowing there are fewer chemicals involved and the scent is so preferable to other options.
I don't particularly like this runner from Target we have in the hallway. Although the color is nice, it is a pain in the butt to keep it straight and it is not very high quality - it picks super easily and we've already had to cut a lot of loose strings off of it since we bought it in September. All of that said, I love this rug because my Hank adores it. It is one of his most favorite places in the house (after on our bed eating pillows and under our bed eating pillows). When we're sitting watching TV in the living room, Hank stretches out on his "comfort rug" behind us. And when I'm scooping the dogs' food in the morning and in the evening, while Luellen is sitting nicely at my feet and waiting patiently for her food, Hanky walks around the corner and lays down on his rug, sometimes poking his head around the wall into the kitchen. I bring him his food as if he is the King of England, and he eats it, laying down, on his rug. It probably makes me a bad dog owner that I don't make him sit and stay for his food as I do Lulu and that I allow him to lay down and eat, which probably isn't healthy for his digestive system. But his feeding time ritual is so precious. Luellen scarfs down her food in roughly two minutes; Hank usually relaxes and savors on his rug, taking 10-15 minutes to eat his Purina kibble by kibble. Although it can be annoying when I'm late for work, it's darling. I love my Hank and he loves his rug.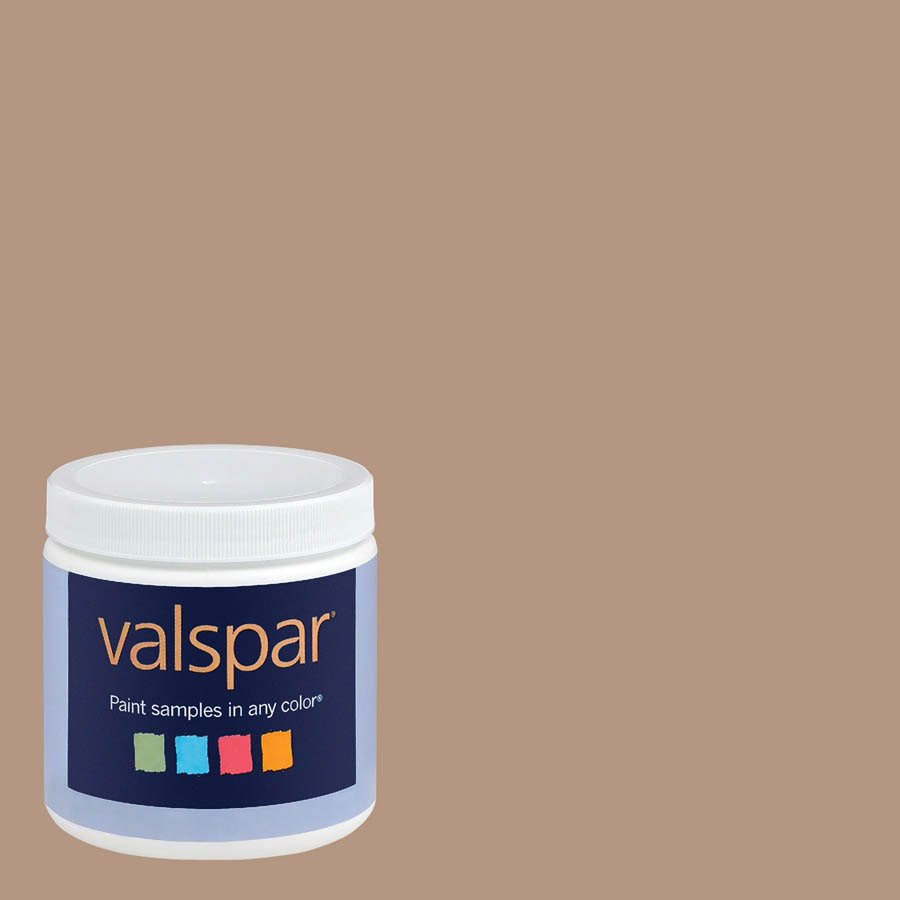 I've been dying to paint my guest bathroom an oatmeal color like this Eddie Bauer Satin Interior Oatmeal shade. Tan with a little purple, I've been infatuated with this color for over a year now. And all the walls in our house are still "contractor white." Although it won't be long before we have to make a military move, I really want to add some personality to a few walls. What do you think about oatmeal for a bathroom?
Okay, folks - I have to go change into my gym clothes so I can meet Chris to work out at his favorite gym on base. It's leg day, and I love me some leg day.