When I found out we were expecting, it was important to me to get our registry together asap. Not because I wanted people to buy us things, but because I knew we'd be buying a lot of the big ticket items ourselves and I wanted to go ahead and have a list with which to budget and plan.
Even before I was pregnant, I'd decided to use the website
Cricket's Circle
for our registry. I'd read about it online and loved the concept - each item on the registry has been narrowed down to the three best choices based on reviews by moms, so you can choose from the three "Cricket's Picks" for bottles, onesies, strollers, etc., with confidence that you'll receive a quality product. Unfortunately, I got some bad news after the hours I'd spent creating my registry (it still takes a while even with only three choices for each item!). I'd been emailing with one of their customer service representatives because I'd had some issues saving color options for my selections, and she revealed to me that I should probably move my registry due to the fact Cricket's Circle was shutting down their registry service. : ( She offered to help me with the process, but I hated for her to have to do that. So I spent another day working on our registry online at Buy Buy Baby... Luckily they had many of the products I'd already selected from Cricket's Circle's site. In the end, Cricket's Circle still helped me a lot with making decisions with reassurance I would be satisfied with my selections, even if I had to put in a little extra work (and I have to admit it's fun picking out clothes, gear, and toys for the baby, even if it's time consuming).
Of course, I was even more surprised than I thought I would be by the price tags on some of the baby items we'll be needing in the very near future, not to mention how lengthy the list is of items needed for the first year or two of having a kiddo. So, we've decided to spread out the purchases and start buying things little by little right away.
(Image from freshlypicked.com)
I had already chosen a couple baby purchases before completing our registry. The first (and I ordered this almost as soon as I knew we were expecting) was a "Bringing Home Baby Bundle" from
Freshly Picked
. The bundles are a collaboration between Freshly Picked (a company that makes the cutest leather baby moccasins) and Naomi Davis, the writer of one of my favorite blogs, Love Taza. They are the sweetest combination of matching items for baby and mama to wear in the hospital, when coming home for the first time, and beyond. Each bundle includes baby moccasins, a robe and socks for mom, a swaddle, a hat for baby, a cute bag to carry personal items to and from the hospital, and a laundry bag! I love the idea of having these pieces of clothing that are especially for those first few precious hours and days together with our new addition. It also gives me the the illusion of being somewhat prepared for our time in the hospital and delivery. : ) The color choices of yellow, blue, and pink are also available, but I decided to go with the classic gray instead of waiting until we know the baby's gender to order the bundle. I think we'll be able to get more wear out of the neutral gray moccasins than we would with a bright color no matter if the baby is a boy or girl.
(Image from Lovetaza.com)
Another item I'd picked out a while back was our diaper bag - the "Carryall" by
Storq
. I ordered it this past week, and I did a happy dance when it arrived in the mail just a few days later. I'm admittedly more excited about this diaper bag than I've ever been about a purse. It's made from 100% cotton canvas (that's usually used for teepees!) that's completely water-repellent. It has a ton of pockets for all things baby-related, but it definitely doesn't look like a classic diaper bag! It's minimal and black on the outside, and you can carry it by a handle on the top or as a backpack - which means the Mister won't be embarrassed to tote it around. I'm also planning on purchasing a couple pieces of Storq's beautiful maternity clothes as soon as I can - they're out of stock in my size at the moment.
(Image from Storq.com)
So far, those two are the only big purchases we've made for baby. My plan is to order our bassinet in the next week or two. The bassinet is going to be one of our most important buys early on because we're likely to be moving within a month or two of having the baby, so we probably won't be putting together a nursery at this house... which means the baby will be sleeping in the bassinet while we're here unless he or she out grows it quickly.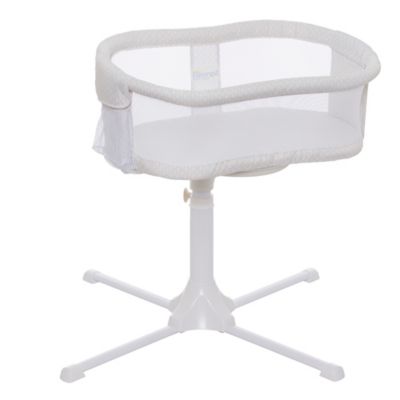 (Image from buybuybaby.com)
I've decided on the
HALO Bassinest Essenti Series Swivel Sleeper
because it rotates to either be used as a classic bedside bassinet or with the baby resting on the bed as more of a co-sleeper. I liked the idea of a co-sleeper instead of a bassinet, but the thought of accidents happening while we were asleep made me nervous, so I was happy to find this model with its sturdy sides that will help me worry less about rolling into the baby's space while we're sleeping. And if we decide we aren't comfortable with co-sleeping or that we need some more space, we can turn the basket away from the bed. I'll post some photos once it arrives and we have it set up!
After the bassinet, our next big purchases in September will be an infant car seat (definitely a necessity!) and a nice, warm coat/bunting for baby since he or she will be arriving midwinter! I can't wait to fill you in on all of it!